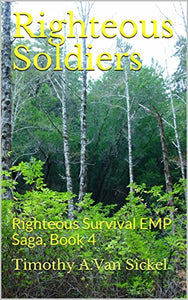 Righteous Soldiers: Righteous Survival EMP Saga, Book 4
The thrilling and epic Righteous Survival EMP Saga continues.

The book opens with the Laurel Highlands Militia, along with their Oath Keeper allies, battling the forces of martial law for control of the massive Letterkenny Arms Depot. A power struggle among the gathering commanders takes place with a climactic ending.

Meanwhile, in the free lands of the Appalachian Mountains, society starts to rebuild. A group of engineers, technicians and mechanics overcome great hurdles and use their American can-do spirit to start to restore normalcy.

As the community of survivors grow, they begin to expand their influence with the goal of saving the farmlands so that food will be available for the long term survival of the country. More of the chaos that has wrecked the nation and its leadership is revealed as the story expands.

As the name implies, there is a religious quality to the book in that the main character and his family are Christian. None of these novels are "preachy". They just tell the story from a Christian perspective.

For the Christian reader, this book contains PG13 language and graphic violence. If B***S*** and A** offend you when used in dialect, this book may not be for you.