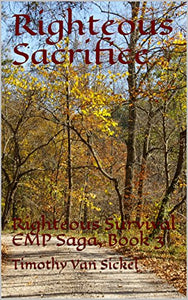 Righteous Sacrifice: Righteous Survival EMP Saga, Book 3
Righteous Sacrifice: Righteous Survival EMP Saga, Book 3
If you have not read Righteous Gathering, Book1, and Righteous Bloodshed, Book 2, you should. Its a free country, (for now) so go ahead and jump into book 3 if you want.

Mark Mays and his militia have establish an area of safety in the Laurel Highlands. But there are threats all around them. They must come up with a means of long term survival. We get a first hand account of how the billionaires are doing in their million dollar bunkers as this epic tale continues. And to bring it all to a head, what is left of the military arrives to stir the pot.

This series is for those who cling to their guns and their bibles. Read the reviews. You decide if this series is for you. Again, I recommend that you start with "Righteous Gathering", but many have told me that the books get better as the series progresses. So feel free to jump into the middle of the chaos!

One thing that makes this story different, as the title implies; it is told from a Christian perspective. It is not a biblical tale following the story told in "Revelations." It is a story of mankind destroying our world as we know it, and how we respond to that catastrophe. I rate the series as PG13 due to some foul language, violence, and vivid chaotic scenes.